Debunking 6 common disaster recovery myths
Disaster recovery plans are surrounded by myths and opinions about what is right, what's worth the investment, and what isn't. OryxAlign has a team of Disaster Recovery specialists who have put their heads together to debunk the false myths and give you the facts you need.
Myth 1: Data backup is the same as a disaster recovery plan
While backing up your data is something we would recommend, it is not the same as a disaster recovery plan.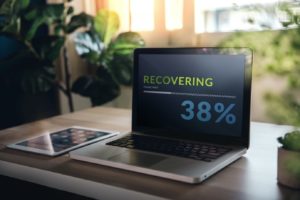 Data backup plans allow you to store all your data in a safe location so that you can access any of it when you need to. Backup is effectively a useful way of archiving.
However, a disaster recovery plan will replicate your entire infrastructure and restore it to its previous settings if a crisis occurs where everything is lost. Instead of just storing files, it secures the services, solutions and technologies that you need to keep your business running.
Myth 2: We're not likely to face any disasters, so it's not worth paying
Big time error. All too many organisations believe that they are probably immune to big disasters, or that they'd be able to handle whatever comes up. Usually, this approach is adopted when budgets are tight, and decision-makers can't justify paying for something that may or may not happen.
Trust us; we've assessed the risks. Disaster recovery should be an absolute priority for businesses of any size worldwide. No one is immune or so resilient that they can pick themselves back up quickly after an unforeseen change in circumstance. Investing now will save you a lot of stress and money in the future.
Myth 3: I already have a good disaster recovery plan
Even if you have a disaster recovery plan in place, it's worth acknowledging that no disaster recovery plan is ever completely airtight. Your plan might be pretty thorough but bear in mind that the nature of a disaster is often something unpredictable. Study every possible scenario and ensure that you don't have any blind spots where things can fall through the cracks.
Myth 4: I know our downtime would be minimal, so business continuity isn't necessary
Minimising downtime and getting your business up and running again after any obstacle is crucial. We all know that time = money. No one wants to waste time.
The difference between resuming business and having a business continuity strategy is that you get a full-scale recovery of all assets, as opposed to quick makeshift solutions where some data may be lost.
Myth 5: The USA is much further ahead with disaster recovery plans than the UK
The USA on average, is researching disaster recovery plan information, templates and tips more than the UK. Their search volume and engagement are the highest ratings in the world. Of the 20,000 global searches per month about disaster recovery, only 1,1000 of those searches are from the UK. Our advice about this fact is that if you're a decision-maker for a UK business – have you researched thoroughly enough?
Myth 6: Disaster recovery is always so expensive
The most expensive thing about disaster recovery that takes people by surprise is hidden costs. Just paying out for a disaster recovery plan that looks pretty good isn't the most cost-effective approach.
Hidden costs creep up as your business grows, you expand to different locations, or your business needs change. Ensuring that you work with disaster recovery advisors to create a premium quality plan to cover all your bases long term will be the best way to avoid big pay-outs.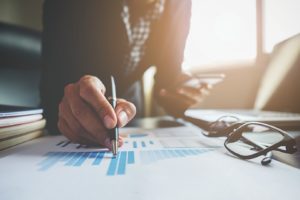 Disaster recovery is indeed going to cost you. However, you have to decide whether the short-term cost now is worth it in the long term. Our advice is that it's worth it, and more than that, it's a necessity for any business that wants to grow and develop securely in the future.
To start planning for the successful future of your business, book your free disaster recovery consultation today. Chat to the experts.