How the Microsoft 365 updates are empowering hybrid workers
Every so often we bring you an update on the new innovations that Microsoft are consistently releasing, this month is no different! We're going through all the latest new apps and capabilities across Microsoft 365.
Stay in the flow of work with enhanced collaboration through Mesh for Teams
Microsoft Mesh enables workers to explore presence (eye contact, facial expressions, and gestures) and shared experiences from anywhere, and on any device through mixed reality applications. This experience will be embedded right into Teams. Mesh for Microsoft Teams will enable a new generation of 2D and 3D meetings, allowing employees to control how they portray themselves in an immersive space with customised avatars. With the use of AI, the experience also allows users to mimic movements and gestures to bring their physical appearance into a conversation when the camera is off.
Your business will also be able to generate immersive spaces which bear a resemblance to conference rooms, design centres and networking lounges to enhance the experience.
More inclusive and productive hybrid meetings with new Teams updates
Users will now be able to assign roles of the scheduling form, whilst being able to see the order of raised hands – this will ensure that all users are being heard.
The mobile overflow menu will also be overhauled to shed light on key actions such as viewing chat and adding a notification drawer for in-meeting system messages. This means all users can preview, collapse and erase notifications in one tap.
Improve the hybrid working experience
In order to deliver Teams experiences that keep workers connected and enable them to fully participate in meetings no matter where they're based, Microsoft are partnering with a world leading hardware partner. With the Yealink desk Vision AIO24, employees can use this as a standalone device for Teams collaboration, or as a second screen.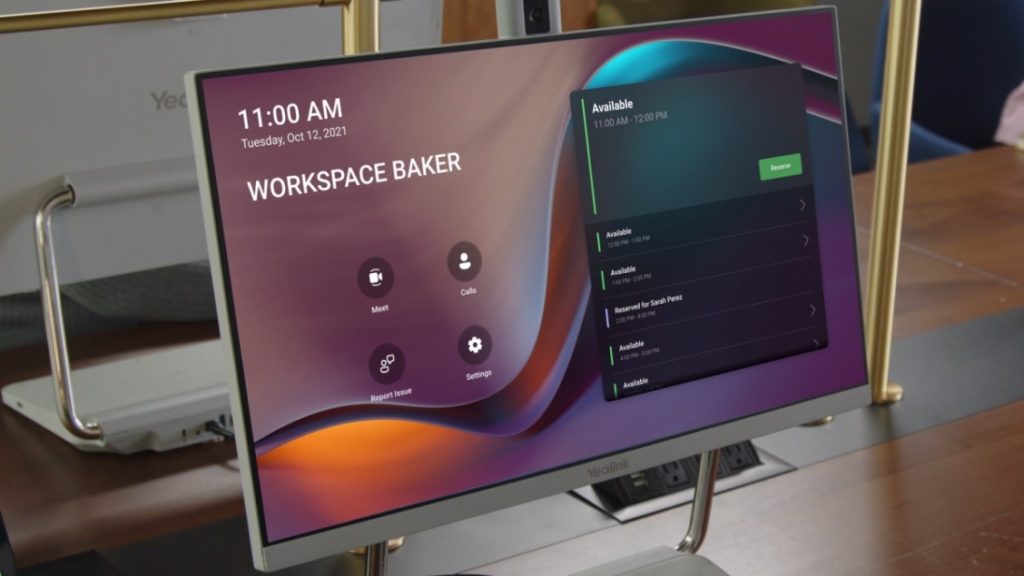 Also joining the Teams panels portfolio, is the Logitech Tap Scheduler to allow users to view meeting room availability, location information and meeting details.
Additionally, Direct Guest Join will let users join a third-party meeting with basic controls, right from their Teams Rooms. Equally, the feature will allow people to join teams meetings from their third-party room systems. This is currently available with Zoom and Cisco, with expansion plans to include Bluejeans and GoToMeeting.
Surface Hubs will now be able to be managed from the Teams admin centre with other Teams devices.
Make cross-organisational collaboration easier and more secure
Effective work can only be carried out when communication and collaboration can be made easier with people inside and outside of the organisation. New capabilities in Microsoft Teams Connect will do just that, and securely too!
With Microsoft Teams Connect, your business will be able to:
Share a channel with individuals and teams across multiple organisation
Schedule a meeting
Collaborate in real-time on apps
Share channels with up to 50 teams and as many organisations needed
Chat with team members outside of your organisation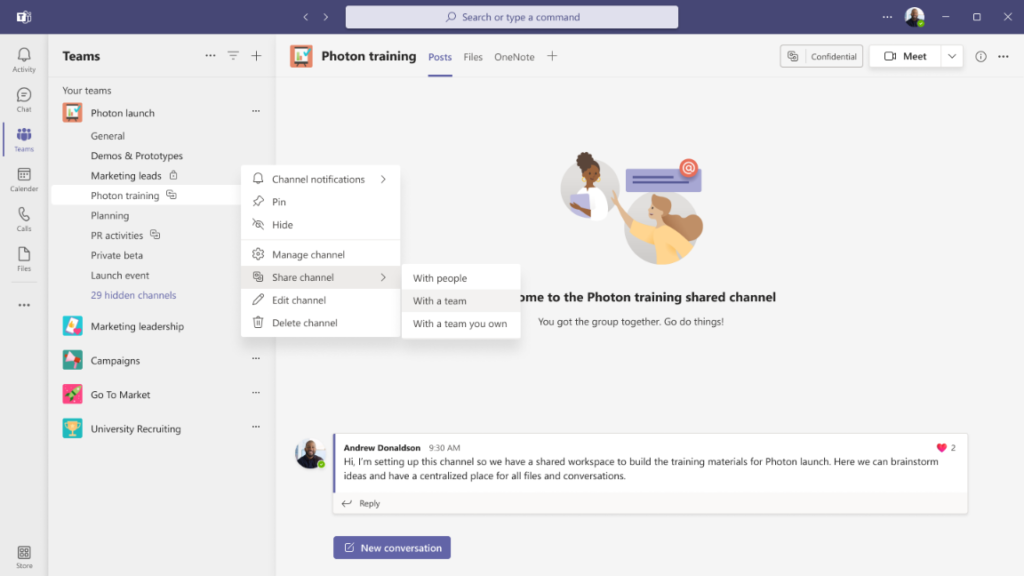 Create engaging events
New webinar and broadcasting capabilities will allow users to easily set up and deliver professional, engaging experiences to internal and external audiences. The virtual green room will allow organisers and presenters to socialise, monitor, chat, host Q&A's, manage attendee settings and share the content before the event is set to start.
Organisers will also be able to control what attendees see to ensure that attendees will only see shared contents on screen. These features will be available in preview in 2022.
Cvent, the leading events and hospitality management system is now integrated in Teams. In early 2022, users can use the platform manage the event lifecycle, which includes registration and agenda management, and the ability to deliver the virtual meeting and event experience via Teams.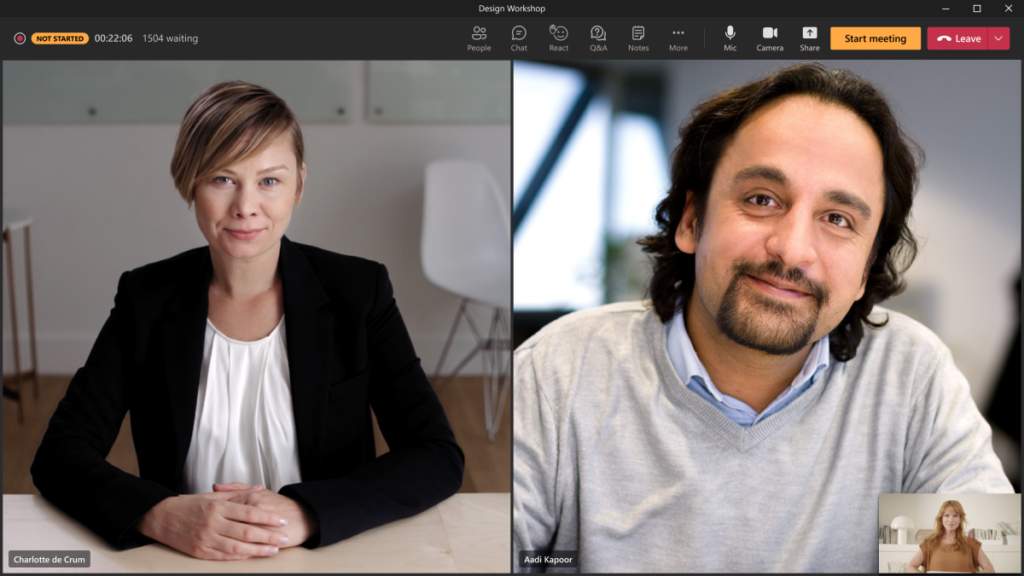 Unlock teamwork with collaborative apps
The collaborative apps have been designed and optimised to enable flexibility of hybrid work inside Teams. All the relevant processes, data and people are brought together to achieve more. With apps through partners such as Atlassian, SAP, and ServiceNow, users can engage with the apps across chat, channels and meetings.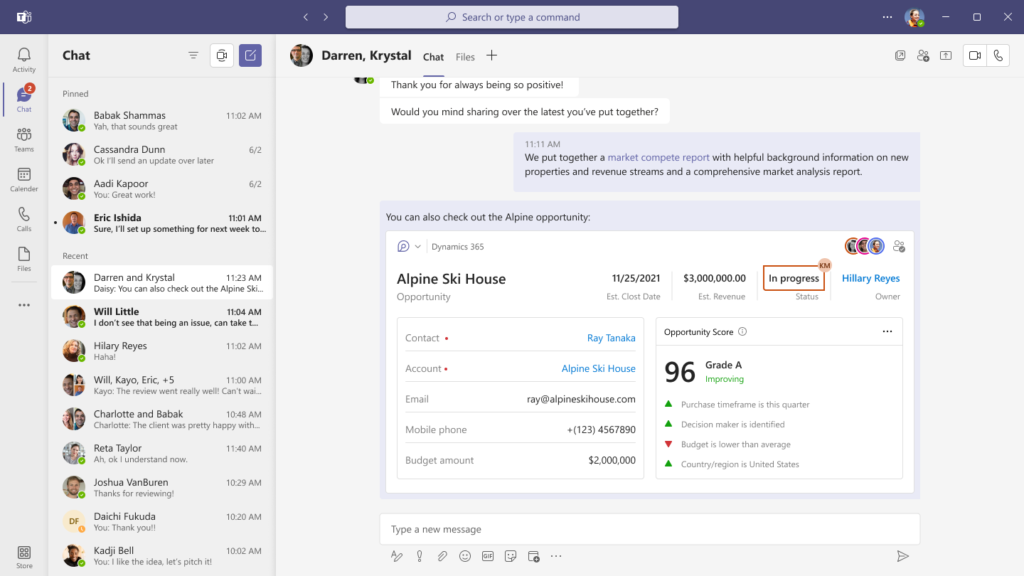 Keep employees engaged and informed with Microsoft Viva
Microsoft Viva is available for purchase as a suite, this includes the Insights, Learning and Topics modules. The Viva suite will also embrace a new goals management module in 2022, which will be based on Ally.oi. Viva Learning is available for everyone to use, and new experiences for Viva Connections for mobile and desktop is also being launched.
Viva Insights will have a new meeting experience and manage insights which will aid employees in building new habits and norms hat will boost connection, productivity and wellbeing.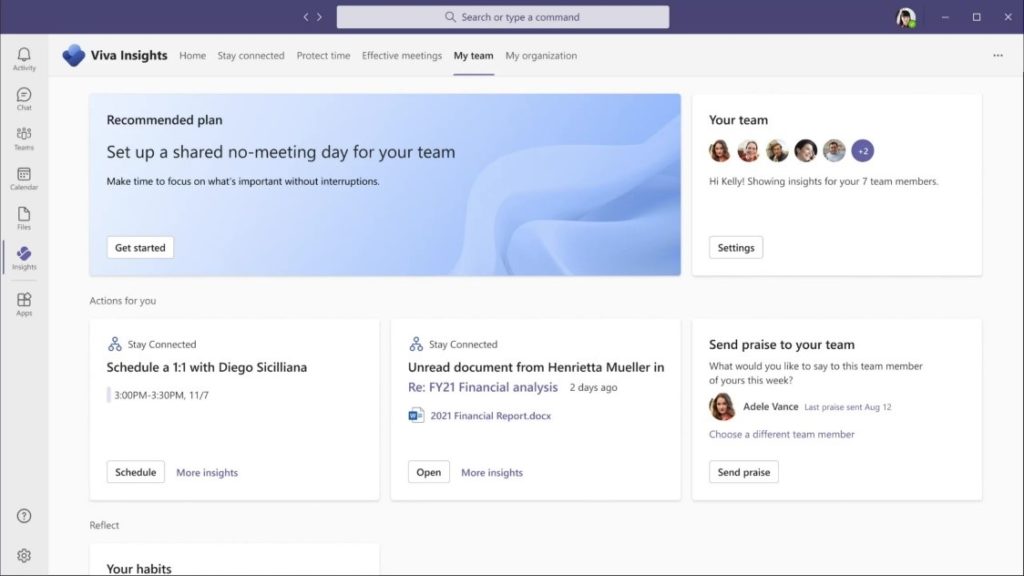 Windows 11 for the hybrid world
All the new innovations that Microsoft bring out are built for and powdered by Windows which is designed for hybrid work. The launch of Windows 11 results in easy, zero-touch deployment, it also allows you to tune devices and tools to meet the needs of employees to. The controls for scheduling and deploying Windows features updates will be integrated into Intune to make it easier for businesses using Intune to leverage the Windows update for the business deployment service
New enhancements to Windows 365, including Windows 11 support on Business Edition
Windows 365 has been taken to the cloud to allow businesses of all sizes to stream the Windows experience to any device. New updates include:
Improved security and support through a Virtual Trusted Platform Module chip to enable Windows 11
Web client improvements for faster loading, improved performance, local resource settings and accessibility features
Support for Azure Active Directory joined Windows 365 removes the requirement for on-premises or Azure infrastructure
Endpoint analytics resource reports in Microsoft Endpoint Manager provide metrics on central processing unit (CPU) and random access memory (RAM) performance in Windows 365
If you're looking for more support and guidance around the new Microsoft 365 updates, contact our Microsoft-Certified gold team today.