on average 35% of staff will click on a dangerous email; our training can reduce that to 4% within a year
Phishing emails are rising dramatically and are becoming more sophisticated with the addition of Artificial Intelligence.
Arm your employees with the ability to recognise deceptive communications and dramatically reduce the risk of ransomware attacks, data breaches and malware.
Choose from our low-cost, fully-managed service or simply purchase a self-service subscription.
human error causes 88% of all cyber data breaches; turn your greatest risk into a security-informed asset
Source: Stanford University, 2020
cyber security awareness training and simulated phishing attacks

phishing simulations
Schedule and send realistic, simulated phishing emails to establish which individuals are likely to click or respond. Use the output to provide training.

new fully managed service
We can manage the phishing tests for you. Fake emails will be sent to your staff at least quarterly. We'll send you the results and train your staff as required. Now your tech team can concentrate on core business.

engaging and interactive training
Engage employees with immersive training. Available in several languages and across formats such as videos, games, posters, and newsletters.
proficiency assessments
Gauge employee competency and the overall security culture of your business. Tailor training for individuals based on gaps in their cybersecurity knowledge.

phishing alert button
Staff can forward a message to your security team (or ours) for analysis with one click. Suspected dangerous emails are deleted from your employee's Inbox to prevent further exposure.

advanced reporting
Access deep-dive insights into the progress of your security awareness training program. Report on and respond to actionable metrics.
security awareness training guide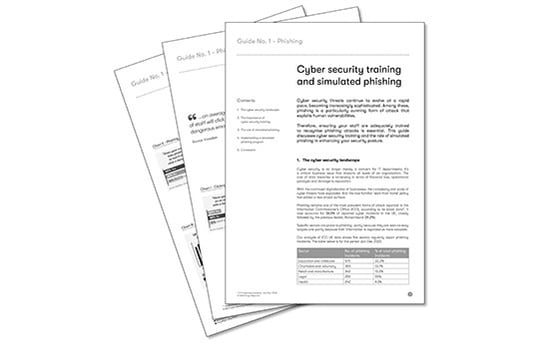 This guide discusses cyber security training and the role of simulated phishing in enhancing your security posture.
book a meeting…
To learn more about cyber security awareness training, check our calendar and book a 30-minute meeting.